The Bible, Sexuality, and the United Methodist Church.
FAITHFUL & INCLUSIVE - SESSION 4 of 6
---
FAITHFUL & INCLUSIVE - SESSION 3 of 6
---
FAITHFUL & INCLUSIVE - SESSION 2 of 6
---
FAITHFUL & INCLUSIVE - SESSION 1 of 6
We invite you to participate in our online Bible study series, where we will delve into the thought-provoking and important topics of The Bible, sexuality, and the United Methodist Church. This series aims to foster meaningful discussions and explore the intersection between biblical teachings, human sexuality, and the evolving perspectives within the United Methodist Church.
Together, we will examine various scriptural passages, theological viewpoints, and the ongoing dialogues within the denomination. Join us as we seek a deeper understanding of these complex issues and their implications for our faith and community.
---
INTERESTED IN WHAT THE BIBLE SAYS ABOUT HUMAN SEXUALITY?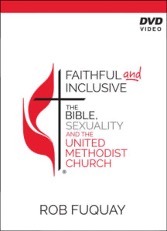 Rev. Rob Fuquay, pastor of one of the largest United Methodist congregations in the country, creates a safe space to navigate through this thorny issue, relying on the biblical-interpretation approach of Methodism's founder, John Wesley. Each video session also features the faith journeys of members of the LGBTQ community and their families.
The six 50-minute video sessions cover these subjects:
How United Methodists Interpret Scripture
Old Testament Passages
The Influence of Culture on How We Read the Bible
New Testament Passages
The Jesus Ethic: What Did Christ Say?
Where Does the United Methodist Church Go From Here?
Faithful and Inclusive allows you to gain an understanding of how United Methodists can be both obedient to God's Word and fully welcoming to LGBTQ persons in the church.
This class was taught in-person the summer of 2023. We encourage you to watch the class with a group of other people in the comfort of your home and faithfully explore the questions raised in the course.