Children's Ministries • Student Ministries • Adult Ministries
---
A brief description of the study from Cokesbury:
Tolerate one another. Wait, isn't that supposed to be love one another? It's one thing to genuinely love people who are more or less the same as we are, but what about those who are not only strangers, but people who live completely different lives? Reliable spiritual guide Will Willimon invites you to look more closely at the gospel's command to love -- because to genuinely love those considered to be "Other" may be the hardest thing for people of faith to do. (Abingdon Press)
Will Willimon dedicates his book: To the Christians who fearlessly preached and protested against the governor and legislature of Alabama's anti-immigration law, HB 56
William H. Willimon is professor of the practice of Christian ministry at Duke University Divinity School in Durham, North Carolina, retired bishop of the North Alabama Conference of the United Methodist Church, and former dean of the chapel at Duke University.
Please let June or myself know if you are interested in joining this study. I have 4 of the study books available at the cost of $8.50 each.
---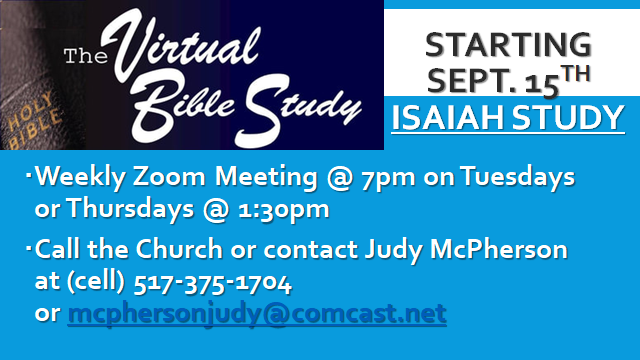 Nursery
A nursery, located on the same level as the Sanctuary across the hall from the pastor's office, is available for children aged two and under.
Sunday School
Sunday School is coordinated to meet during the school year for children and youth aged preschool to eighth grade.
Classes begin the first Sunday after Labor Day and meet from 10:00 - 10:45 a.m. each week. The last class for each season will be the Sunday before Memorial Day weekend. Sunday School classrooms are clearly marked and can be found in the following locations:
Preschool thru eighth grade students meet in the classrooms on the second floor. (upper most level of the church in the Educational Wing)
High School aged students, ninth thru twelfth grades, meet on the Sanctuary level in the Cafe. (located across the hall from the pastor's office)

Adult Studies
Several adult Bible study classes are offered throughout the year. (Please contact the church if you have any questions at (517) 627-3256)
Examples are:
Advent Studies - short term
All Church Studies occur throughout the year
Disciple Bible Studies
Lent Studies - short term
New Member Classes
Women's Bible Study - meets Wednesday morning at 9:30 a.m. in the parlor
For dates and times of any of the above please see the monthly calendar, located in the "Library" on this website.